Thanks to our office services your constant reach-ability is guaranteed, even if at times you are not in the office yourself or are not able to answer the phone personally.
So that you can focus fully on what matters most, i.e. your business, we take care of all the other things for you to the exact extent that you want us to. Regardless whether you opt for an office, a virtual office, a membership or a conference at our centre – our qualified and exceptionally well-trained members of staff are always at hand to provide friendly and competent assistance. And remember, you only ever pay for what you have actually used!
We offer the following reliable and professional secretarial services to you:
Professional visitor reception (included as a matter of course)
Taking over writing and administrative work
Creation of presentations
Taking over hotel and travel bookings
Diary coordination
Expenses claim accountancy
We will be happy to put together a tailor-made secretarial service package for you that is flexible enough for you to adapt to your changing needs.
to the enquiry form
As part of our virtual office solution and the business address, we support you with our proficient post and parcel service including an acceptance flat rate. We are happy to forward incoming post and parcels on according to your instructions – daily, weekly or monthly – to an address of your choice or we can store these in your personal post-box until you collect them. What's more, you may put your company signs up in the foyer of the building's entrance and on the office floor, or you may make use of our day offices, meeting and conference rooms, which you may book by the hour or day.
to the enquiry form
With our telephone service you are always reachable under your own local telephone number, even if you cannot answer the phone yourself, since incoming phone calls for you are accepted in your company name by our well-trained qualified staff onsite and not by a call centre. Our administrators fully identify with your company, know who you are and what you do and where you are at the time of the call. Therefore, they are able to give your callers a professional response and information, just like your personal secretary would and do not churn out pre-formulated standard phrases. At any point in time you are able to adapt procedures for your incoming phone calls to suit any changes in your daily routine.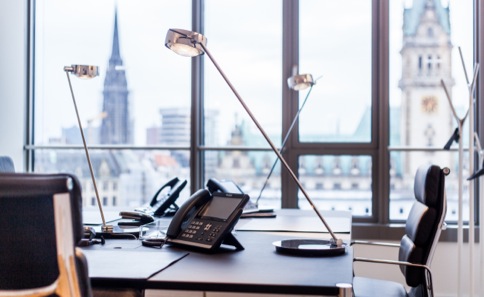 It is your decision whether the call is forwarded to you directly or whether it is answered in your company name and it is followed by you receiving a message about the call via email.
What's more, you only pay for what you actually use, since the telephone service is calculated based on minutes used. Alternatively, an individual, flexible call acceptance contingent can be agreed instead. Thanks to our service you won't be missing any calls in future – and no need to employ your own staff either!
to the enquiry form